Upcycling – Finding new ways for old things. Education on sustainable textile consumption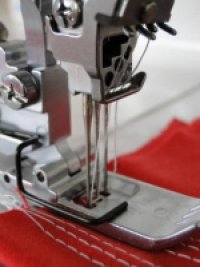 Upcycling means to sew new, appealing clothes from old clothing, left-over cloth and other material. During sewing classes in three adult learning centres, participants learned why this is a sustainable alternative to traditional forms of textile usage and how concrete upcycling ideas can be put into practice. For these courses, finep developed short educational modules that can be applied in various educational settings.
Additionally, finep announced a public upcycling competition. The contributions (for example, a rain jacket made from an old tent) were presented to the public and passers-by could vote for their favourite piece. This project also led to an extension of finep's textile exhibition Im Fadenkreuz. The exhibition now includes upcycling as a new topic and presents the experiences of organic and fair producers in Nicaragua and India.
Contact
Kai Diederich
Information material
Brochure on Upcycling and the challenges with old clothes (German)

Timeframe
2013 – 2014
Cooperation partners
VHS Esslingen
VHS Stuttgart
Schiller-VHS Ludwigsburg
Nueva Vida (sewer cooperative in Nicaragua)
Alok Industries Limited (GOTS-certified textile factory in India)
Funding
The project was supported by the Baden-Württemberg Stiftung.

Awarded as an official project of the UN decade Bildung für nachhaltige Entwicklung (Education for sustainable development) 2014. For more information, please visit the website of the UN Decade.