Weniger tragen ist mehr haben – Sustainable textile consumption in everyday life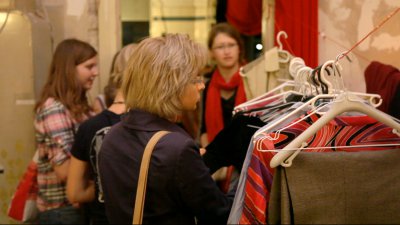 On average, every German citizen buys 30-40 pieces of clothing every year. Together with the USA, we have the highest consumption of clothes in the world. Over 90% of clothes bought in Germany are made in low-income countries within Asia and Latin America. In these countries, not only are wages often below subsistence level, but there are also missing safety precautions in factories and countless negative consequences for the environment. Our project showed possible alternatives for consumer behaviour. Young people in particular, learned about options for action towards a sustainable consumption of clothing. For this purpose, we used the concept of Casual Learning, which is based on integrating relevant information into daily life.
Project components:

Development and implementation of three educational tools on sustainability and sufficiency, such as cleaning rags, a T-Shirt exhibition with a brochure and sewing sets
Phone consultations
Production of a booklet
Contact
Kai Diederich
Material zum Projekt
brochure Maßgeschneiderte Aktionen zur textilen Nachhaltigkeit (German), dishcloth, T-Shirt-installation with leaflet (German), mending kit

Timeframe
2015 – 2016
Funding
This project was funded by the Federal Ministry for Economic Cooperation and Development and by Bread for the World - Protestant Development Service.