Third Party Funding
We are supporting you throughout the entire process of acquiring external funding.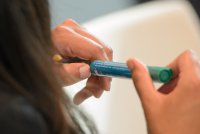 Tailored to your specific needs, we advise and support you with the acquisition of funds that you need for your development projects:

• We are researching suitable donors and programmes.
• We are assisting you with interpreting guidelines and regulations and advise you with regards to the eligibility of your organization and planned activities.
• We are supporting you with drafting project proposals and budgets. By request and in close cooperation with you, we can even prepare complete project proposals.

• We are keeping an eye on any formal and administrative requirements related to the application.
We have broad and long-standing experiences in drafting and submitting funding applications to the European Commission (DG DEVCO in particular) as well as to foundations and to local authorities.