Project Development
Are planning to submit a funding application to the European Union - or any other donor for that matter?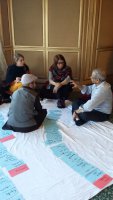 We are supporting you in the early stages of planning your project by brainstorming ideas and setting up an intervention logic designed to meet the donors' expectations. While doing so we always keep an eye on meeting every rule and regulation set forth in the donors' guidelines.

Donors like the European Union have sophisticated application forms and exact expectations on how to complete these forms. Thanks to our broad and long-lasting experience in writing and submitting funding applications we know exactly how to meet the criteria set by the European Union and by many other donors. Thus, we can even offer to draft the complete project proposal for you (including budget).
By request, we are also conceptualizing and conducting participatory planning workshops and meetings with all stakeholders involved. These workshops can take place worldwide in at least four languages including English, Spanish, French, and German.
Projektentwicklung
Sie wollen einen Förderantrag an die EU oder einen anderen Geldgeber stellen?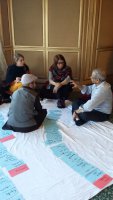 Wir beraten Sie bereits in der Phase der Projektentwicklung – von der Ideenfindung bis zur Entwicklung eines tragfähigen Konzepts. Dabei achten wir darauf, dass die Förderrichtlinien des Geldgebers eingehalten werden. Denn jeder hat spezielle Antragsformulare und Vorstellungen, wie diese auszufüllen sind.

Wir verfügen über langjährige Erfahrung im Verfassen von Förderanträgen und kennen die Anforderungen der EU und vieler nationaler Geldgeber sehr genau. Gerne schreiben wir auch den kompletten Förderantrag (inkl. Budget) für Sie.
Auf Wunsch führen wir außerdem partizipative Planungsworkshops mit allen Stakeholdern im In- und Ausland in den Sprachen Deutsch, Englisch, Spanisch und Französisch durch und moderieren Konsortiumstreffen oder Telefonkonferenzen der beteiligten Organisationen.