Project implementation
We are offering support with implementing and administrating your project during its entire life span.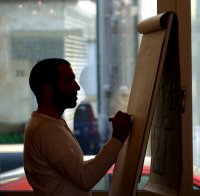 By request, our support starts before your project even begins. Ahead of signing the donor's grant contract, we can inform you on special stipulations and advise you during contract negotiations.
In order to provide for a smooth start of your project, we are offering to conceptualize and facilitate a kick-off workshop. We are enabling you to understand the donor's financial and administrative regulations as well as rights and duties deriving from signing the grant contract.

"Our support starts before your project even begins."
Keeping all facts and numbers in order during implementation is extremely important. We are supporting you in monitoring your project activities, indicators, targets and finances. And by request, we can also support with interim and final reporting (narrative and financial).
In addition, we are advising you on all donor communications and queries, for example in case of changes of intervention logic or budget.