SDGs in the midst of life - Coaching for global sustainability in everyday life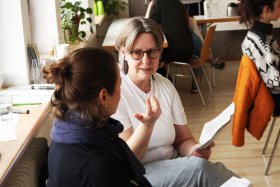 You want to advocate for global justice, but don't know where to start? You want to make a difference, but your plans keep getting lost in the hustle of daily routine? Integrating sustainability into your own life is not always easy.
In the project SDGs in the midst of life, we will develop a course, in which we will discover together how an individual can advocate for global justice. We will coach and support you on your own way to action by using applicable methods that work well in coaching and motivational trainings and adapt these for development education.
Project activity
Through two courses aimed at young people, families, and senior citizens, we will impart knowledge about global sustainability issues. Participants will develop and implement individual lifestyle changes or educational actions for public spaces. The focus of the courses is on each individual: through our coaching methods, we will support participants in analysing their own behaviour and habits. Together, we will discover which forms of engagement best suit your personality and interests, in order to overcome individual obstacles on the path to action.
At the end, the developed coaching methods and the results of the courses will be processed and passed on to multipliers. This will enable individuals to incorporate various developed concepts into their own educational work.
Contact
Sofie Barth, Miriam Rommel, Kai Diederich
Timeframe
2022 - 2023
Funding
This project is funded by ENGAGEMENT GLOBAL on behalf of the Federal Ministry of Economic Cooperation and Development as well as by the state of Baden-Württemberg by means of Stiftung Entwicklungs-Zusammenarbeit Baden-Württemberg (SEZ) and by Brot für die Welt by means of Kirchlicher Entwicklungsdienst.