Conception and moderation of processes and events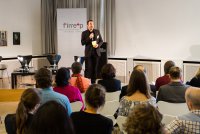 Going into retreat is a good idea if you are looking to work on a specific topic or to discuss the results of your work intensively within your team. Annual meetings are also great opportunities to review the results of your work, to take stock and to develop new ideas for the future.

An external moderation allows you to fully concentrate on the respective topic and to work towards goals.
We support you in the conception and moderation of one or several days retreats, annual meetings, planning and networking meetings or international partner meetings.
Our moderations methods are suitable for small as well as large groups.