Conceptualisation of Events
You wish to organise a conference to initiate a comprehensive debate about current developmental and environmental issues? You conducted a research study and wish to present it to the pulic?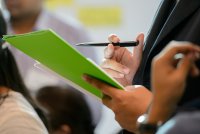 We gladly support you by organising a suitable event for your request.
We support you in planning and conceptualizing events suitable for your target groups.
We develop the agenda in dialog with you an based on your needs.
We propose creative methods for an attractive event design that allows for the participation of your audience.