Environmental education: simply intercultural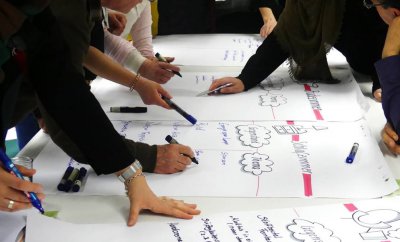 Environmental education: simply intercultural is a project, which addresses the – often insufficient - inclusion of people with a migratory background in the field of nature and environmental education in Germany. Together with local actors, finep works on new forms of environmental communication (Casual Learning) to gain more people with a migratory background for regionally important environmental issues.

Following meetings with representatives of the target group, six Casual Learning projects are developed and implemented in three cities/regions of Baden-Wuerttemberg. The projects are supported by local networks of environmental actors. The outcome of these sample projects is further discussed and shared on nationwide trainings for environmental actors, in hand-outs and on expert conferences. Thereby, we want to encourage other environmental actors to realize target group specific environmental education measures using easily applicable communication tools.
The ub:ikul project was awarded with the Certification Mark Project Sustainability 2020 for outstanding and effective commitment to sustainable development.
The ib:ikul project was also broadcast on a regional telestation. You find the TV report here.

Casual Learning measures developed within the frame of the project:
Contact
Anna-Maria Schuttkowski, Petra Schmettow

Timeframe
2018 – 2020
Cooperation partners

Swabian Alb Biosphere Reserve, City of Karlsruhe (Ministry for Environment and Occupational Safety), City of Heilbronn (Department of Participation and Integration),
LAMSA (Saxony Anhalt), LAKA (Baden-Wuerttemberg), DNR, ANU Federal Association, ANU Bavaria, ANU Baden-Wuerttemberg
Funding
The project is funded by the Federal Environmental Agency and the Federal Ministry for the Environment, Nature Conservation and Nuclear Safety.
The responsibility for the reports content lies with the authors.