Participatory Project Planning
The process from the first project idea to the concrete planning process entails a number of challenges for European NGOs and their partner organisations in the global south.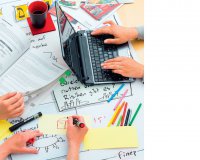 Important questions during the project planning phase are:

How do I design a project needs-oriented and participatory?
Which goals are realistic?
The training on participatory project planning assists you in answering these questions. You will learn to use the components of project cycle management (PCM) and how the different phases of planning, implementing, results-monitoring and evaluating build upon each other.
This includes

what a sensible project logic looks like,
how to design a meaningful logical framework, and
learning about which components belong to a project proposal in development cooperation or humanitarian aid and how they interconnect.
After the training you will be able to,

Assess project proposals and develop them yourself;
Use project planning methods competently in your own work
Consult and support your partner organisations in project planning


For further details, please do not hesitate to contact us.
Contact: Ralph Griese