EU Project Management
Project planning, proposal writing and managing EU grants for development projects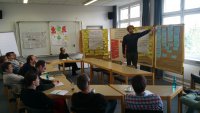 The training course covers the complete application process including all administrative steps such as PADOR registration and uploading application documents onto PROSPECT. After the course, you will have a sound understanding of the logical framework and its importance for both the application and the monitoring of the grant.
Properly managing your project requires good knowledge of EuropeAid's standard grant contract, its financial regulations and its reporting rules. Additionally, it is essential to be aware of procurement rules, the eligibility of costs and the correct use of EuropeAid's reporting templates. In our training course we will cover all these topics in detail, accompanied by a lot of practical exercises and relevant examples.
"Applying for and administering of EU grants certainly can be a challenge. However, after having completed our training course, you will have all the instruments at hand in order to find your way through the 'EU grant jungle'."
For further details, please do not hesitate to contact us.
Contact: Ralph Griese