Trainings
As part of our training centre finep akademie we offer a variety of technical and methodological trainings for national and international non-profit organisations as well as German municipalities.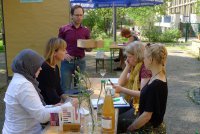 Are you working for a developmental organisation and plan for example, a human rights project in Burundi, a basic education project in Laos, or a food security project in Guatemala?
Do you wish to conceptualise your project in a developmentally sensible and successful way?
Do you plan to react to changes quickly and flexibly and to check on a regular basis whether your project is on the right track for success or not?
Are you in need of competences in order to respond successfully to current quality standards?
For you as a staff member of a non-profit organisation in development or humanitarian aid, central aspects of your work include the discussion on effectiveness, and the results and relevance of development projects abroad. The challenges of project implementation are complex.

The range of finep akademie training offers include: supporting, consulting and informing national and international developmental projects and educational work, providing education for sustainable development, as well as education for civil participation and engagement.
"finep supported us in the process of project development, carried out a participative planning workshop and assisted us in designing the application. The resulting project was well thought through and was implemented successfully." (Veronika Schwanz, Kindernothilfe, Germany)
A few of our current offers include: